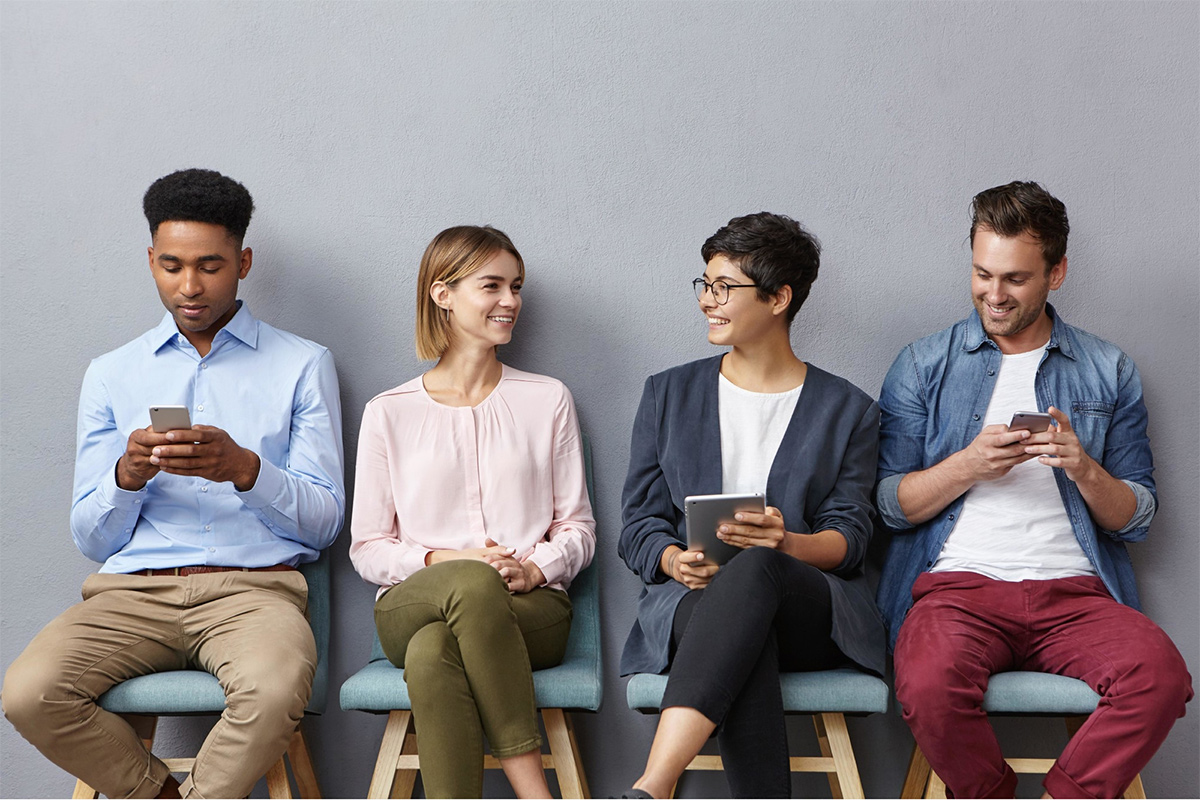 Očakávať, že uvedený postoj pri uchádzaní sa o prácu niekto ocení, je výrazom nezrelosti a naivity. Odborníci (v tomto prípade predovšetkým psychológovia, nie módni návrhári) preto odporúčajú oblečenie, ktoré pochádza z kategórie "klasické". To znamená: jednoduché, elegantné, jednofarebné a bez nápadných doplnkov. Ale pozor! Samostatnú kapitolu pri výbere oblečenia tvorí farba: je totiž nositeľom silného emocionálneho významu, či už si to ľudia bezprostredne uvedomujú alebo nie. Z uvedeného dôvodu sa odporúča zvoliť pri formálnych príležitostiach (a pracovný pohovor takouto príležitosťou určite je!) farbu odevu podľa poznania, ako daná farba ovplyvňuje emocionalitu okolia.
Červená farba pôsobí nielen nezávislo a atraktívne, ale aj mimoriadne agresívne, čo v mnohých ľuďoch podnecuje nepokoj a podráždenie. Pri formálnych príležitostiach signalizuje nevkus a na pracovný pohovor je absolútne nevhodná.
Ružová farba naznačuje romantické alebo infantilné črty povahy a v okolí vyvoláva dojem nečitateľnosti. Žeby personalisti uprednostňovali práve toto, o tom sa dá vážne pochybovať...
Pomarančová a žltá farba sú veľmi excentrické a pokiaľ sa človek neuchádza o pozíciu módného návrhára, jednoznačne posúvajú do kategórie "nie".
Zelená farba v tmavších odtieňoch podnecuje určitú odmeranosť, ale v spojení s prácou a kariérou vyvoláva dojem spoľahlivosti, zodpovednosti, samostatnosti a kooperatívnosti. Zelená je v danej súvislosti jednoducho dobrá.
Hnedá farba je mäkká, pokojná, "uvážlivá", zemitá... Vybrať sa na pracovný pohovor v hnedej, je dobrá voľba; zvlášť, ak pohovor vedú muži a nejde pritom o dominantnú, riadiacu pozíciu, pretože hnedá na nich pôsobí žensky upokojujúco a spoľahlivo.
Modrá farba pôsobí veľmi pozitívne v tmavších i svetlejších odtieňoch. Naznačuje profesionalitu a kreativitu. Treba sa však vyhnúť veľmi svetlým, "bábätkovským" odtieňom, aby z ženy nerobila "dievčatko pre všetko".
Biela farba je až priveľmi neutrálna. V horúcich letných dňoch je osviežujúca a nemožno proti nej nič namietať, ale inak pôsobí dosť neurčito a nudne, najmä v spojení so sivou a čiernou.
Čierna farba je akceptovateľná takmer vždy a pôsobí "profesionálne", ale v spojení s klasickými strihmi trochu ťažko a stroho. Veľmi dobrý dojem urobí v spojení s kvalitným materiálom a extravagantnejšími strihmi pri uchádzaní sa o kreatívny druh práce.
Sivá farba predstavuje ideálny výber, ak sa človek uchádza o miesto vedúceho pracovníka. Naznačuje autoritatívnosť, primeraný odstup a zároveň ľudskosť. Sivá pôsobí vždy vkusne, nenútene a jej nevýraznosť možno oživiť väčším klasickým šperkom.