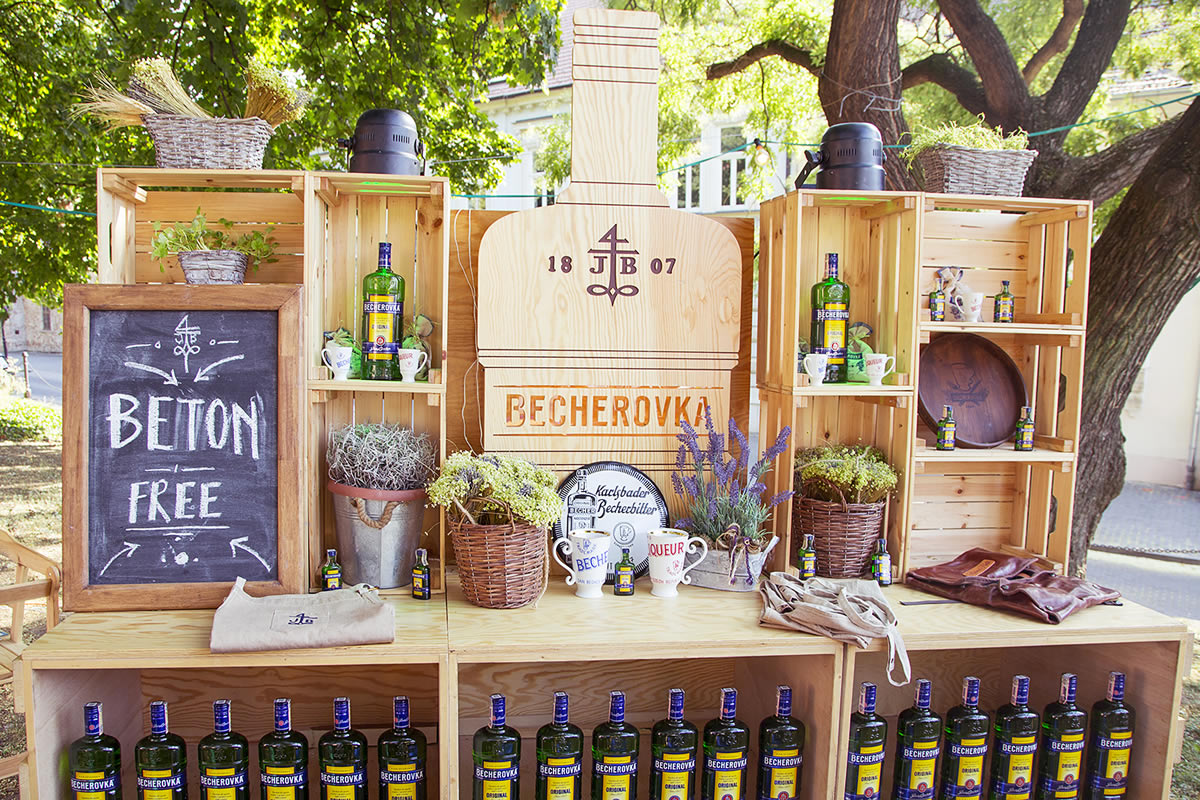 Záhradné párty zožali veľký úspech v Trnave, Bratislave, Banskej Bystrici i Žiline. Posledný zo série záhradných párty si môžete vychutnať 31.8. 2017 v Katovej Bašte v Košiciach. Predstavia sa tam Dj Yanko Král a kapela Puding Pani Elvisovej.
Becherovka, ktorá už niekoľko sezón úspešne pracuje na omladzovaní svojej značky, prišla aj toto leto s novinkou, na oslovenie nielen mladých ľudí. Po úspechu minuloročného Becher Marketu sa totiž toto leto spustila Becher Beton Bar. A nie hocijaký! BETON je obľúbeným letným drinkom už päťdesiaty rok za sebou, a preto sa pri príležitosti svojho okrúhleho jubilea rozhodol ľuďom predstaviť v novom šate. Spojil sa s piatimi craftmanmi, ktorí nápoj ozvláštnili a výsledkom sú drinky, ktoré by ste mali na betón vyskúšať!
Každý z drinkov bol pritom predstavený na špeciálnom evente: Becher Garden Parties, ktoré sa počas augusta konali v piatich slovenských mestách. Návštevníci každej záhradnej párty, ktoré boli pre každého úplne zadarmo, si mohli vychutnať známy BETON v netradičnom spojení s kávou, pivom či sviežimi ovocnými sirupmi. Príjemnú atmosféru teplých letných večerov podporila skvelá hudba v podaní rôznych slovenských dídžejov, ale i kapiel Puding pani Elvisovej či Walter Schnitzelsson. "BETON spríjemňuje ľuďom ich vlastné záhradné párty už 50 rokov, preto sme sa snažili nadviazať na tradície, ale zároveň prísť s niečím mimoriadnym. Ani spojenie so značkami Jablčnô, Herbert sirupy, The Lovely Food, The Padre Craft Brew a The C Café nie je náhodné. Becherovka si už od nepamäti cení všetkých, ktorí robia veci s vášňou a radosťou, tak ako jej zakladatelia. Poctivé slovenské značky, ktoré budú teraz súčasťou našich drinkov sú toho stelesnením. Veríme, že to ocenia aj naši fanúšikovia a tieto špeciálne drinky im budú chutiť," hovorí brand manažérka značky Zuzka Benková.
Kampaň bude prebieha v online a je doplnená bude on-trade rotačnou podporou, kde je pre fanúšikov BETONu pripravených mnoho zaujímavých cien. O návrh kampane sa postaral TRIAD Advertising, PR komunikáciu zastrešuje agentúra Media & Communication Consulting.
Bližšie informácie môžu nájsť fanúšikovia na www.becherbetonsbar.sk.