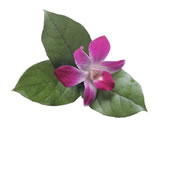 Stále u nás pretrváva "hanebný" zvyk obdarovávať ženy pri príležitosti ich sviatkov praktickými darmi... Darček by však mal prinášať niečo osobité, krásne a výnimočné. A hoci to mnohých prekvapí, uvedené vzácne atribúty môže ponúknuť aj darček z kategórie tých najtradičnejších - kvet.
V 17. a 18. storočí nosili ženy aj muži (pripnuté na odeve alebo držiac v rukách) drobné voňavé kytičky, ktorých vôňa bola nositeľom osvieženia a zdravia. V súčasnosti môžu byť podobné drobné, "strapato" viazané kytičky, napríklad s vôňou jazmínu, frézií a materinej dúšky originálnym darčekom. Inou možnosťou je košík s pôsobivo naaranžovanými kvetmi - napríklad skorými azalkami - ktorý sa stane nádhernou ozdobou každej miestnosti (neskôr možno kvety zasadiť v záhrade alebo z nich možno vytvoriť "kvetináčové zátišie").
V prípade, že chcete kvetinový darček doplniť ešte niečim iným, použite lisované kvety alebo ich lupene na vytvorenie originálneho baliaceho papiera: Je to jednoduché, uložíte čerstvé okvetné lístky medzi dva hárky celofánu a podložíte ich bielym alebo farebným baliacim papierom. Presný postup? Vystrihnete primerane veľké kusy celofánu a podkladového papiera; potom jeden kus celofánu položíte na rovnú plochu chránenú novinovým papierom a postriekate ho sprejovým lepidlom; následne rozložíte po celofáne lupienky kvetov; nakoniec kvetinovú "kompozíciu" postriekate sprejovým lepidlom a položíte na ňu druhý kus celofánu.
Darček zabalený v takomto papieri treba previazať priesvitnou mašľou a efekt originality a luxusu bude dokonalý.
Uvedeným spôsobom možno pracovať aj s vylisovanými lupeňmi kvetov alebo dokonca celými vylisovanými kvetmi. Veľmi decentnou alternatívou je, vysušené lupene kvetov podrviť a "voňavý prášok" vložiť medzi dve vrstvy farebného ryžového papiera. Vizuálne nápadnejšie budú lisované kvety nalepené na celofán (škrobovým lepidlom), ktorý podložíte jemným jednofarebným baliacim papierom.
Nezabudnite, že veľký kus radosti z obdarovávania vytvára spôsob, akým je darček odovzdaný. A výnimočné balenie darčeka je vždy mimoriadne príjemným bonusom.